Haii guys, recently I have been watching a LOT of TV shows that I have been absolutely loving, so I decided to share my love for these shows through a blog! I honestly love TV and I do not know what people did in the olden days when they didn't have it! So lets get straight into it:
F R I E N D S: Friends is probably my absolute favourite show! For all who do not know, Friends is an amazing American sitcom about 6 friends (3 male, 3 female) living in Manhattan experiencing the ups and downs of life. This show is super addictive and funny but can also be really emotional. It is sooooo goooooood and I would DEFINITELY recommend that you watch it! Also, Friends was nominated for 62 Emmy awards and it's final episode had more than 50 million American viewers, making it the fifth most watched series finale in TV history!
T E E N   W O L F: As you can probably tell from the title of the show, Teen Wolf is about Scott McCall who was bitten by a werewolf while in the woods with his best friend Stiles. Basically the show is about all the problems he has to face as a werewolf, the fights he gets into and his romances all while trying to act like a normal kid in high school. I probably didn't explain the show very well but it is AMAZING and super addictive. Would definitely recommend.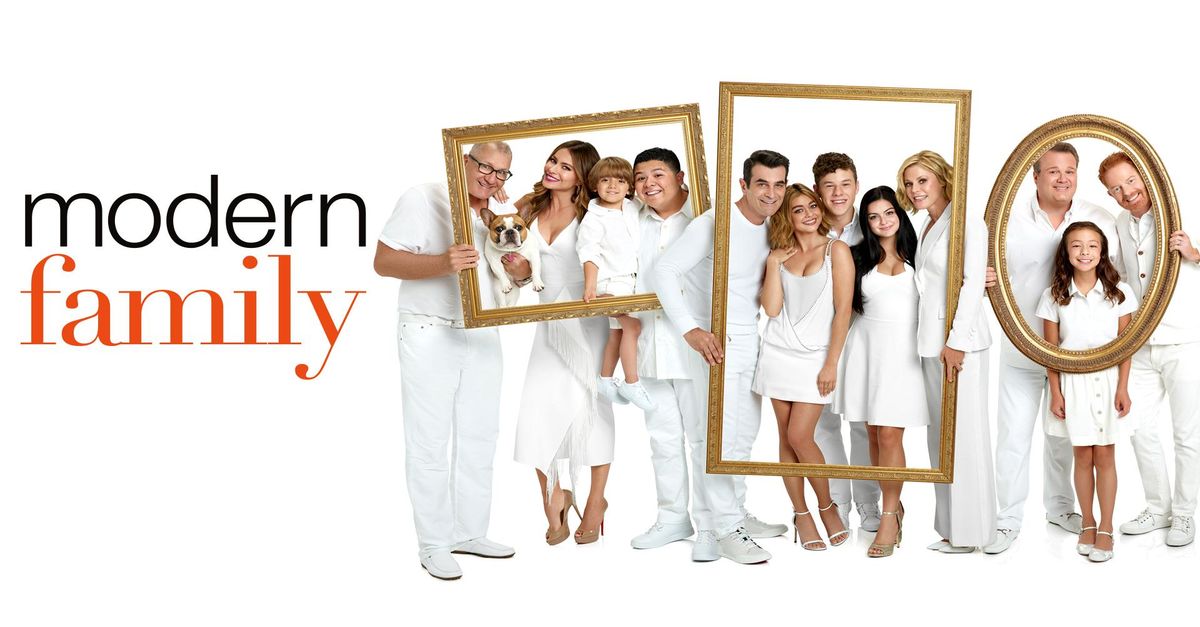 M O D E R N   F A M I L Y: Modern Family is a hilarious sitcom about the lives of an extended modern day family. It is such a simple concept but will leave you laughing at the jokes and witty comments. In this extended family there is Phil and Claire (middle in pic) who have 3 kids with very different personalities. There is Jay, and his Latina wife, Gloria, who are raising two sons together, Manny and Joe. Finally there is Mitchell, and his partner, Cameron who have adopted a little  girl named Lily. I highly encourage you to watch it. It really is hilarious!
P R E T T Y   L I T T L E   L I A R S: All I can say about Pretty Little Liars (PLL for short) is SUSPENCE! Every episode leaves you hanging on the episode and frantically clicking to watch the next ep. Full of plot twists and mystery, PLL is a must! I am still on the first season (I know I  am so behind) but I already love it. Set in the fictional town of Rosewood,  the series follows the lives of four girls, Aria, Hanna Marin, Emily and Spencer Hastings, whose clique falls apart after the disappearance of their leader, Alison. After Ally's disappearance, the girls start receiving anonymous texts from someone called A, who threatens to expose their deepest secrets, including ones they thought only Alison knew……..
S H A D O W H U N T E R S: I don't have a lot to say about this series because I have only watched a few episodes, but so far I am thoroughly enjoying it. The acting and special effects are amazing and the show has a really good plot. I would recommend reading at least one of the books before watching the series on Netflix
G A K K O U   G U R A S H I: 
Gakkou Gurashi (Schoo Live!) is the only Anime on this list, but I can assure you it is AMAZING! It is about 4 girls living in Megurigaoka Private High School,  a unique and lively place. The main character,  Yuki  enjoys her carefree life as a third-year high school student and member of the School Living Club.  However, this illusion of endless bliss is just a bubble waiting to be burst because Yuki is unable to perceive what is truly happening around her. In reality, all is not as it seems—the real purpose of the School Living Club is to escape from the shocking and disturbing truth: the girls are in the middle of a zombie apocalypse and have barricaded themselves inside the school as the sole survivors! It is a dubbed anime and is sooooooo good I would definitely recommend that you watch it!!!! (Source: My anime list)
So those are the shows I am watching, there actually are a lot more but this post would be WAY too long 😂
I really hoped you liked this post and be sure to follow it if you did. Question time! Have you ever watched any of these shows? Are there any you would recommend?
Please stay friendly in the comments section below and have a great day!
Love Misabella xx